The heroic grandeur of the city of Red Nails contrasts savagely with its eerie entanglements in subterranean vaults of endless permutations, blood spilling in ritualistic fervor. Those two aspects of a city Howard extended in extreme clarity; one the order, the other the savage unruly heart of Man.

As you know, the city was based on the Aztec empire, and that's partly the reason for using Buffy Saint-Marie's track "Generation". She as a Cree is visualising tepee towns of yore on rosebud plains. But the ancient city-state is much closer to a Cree gathering that it is to a modern city!

This was brought home to me by a quote from Gavin Maxwell's (Ring of Bright Water) memoirs of childhood days, from his Elrig homestead in Galloway, Scotland, to later school days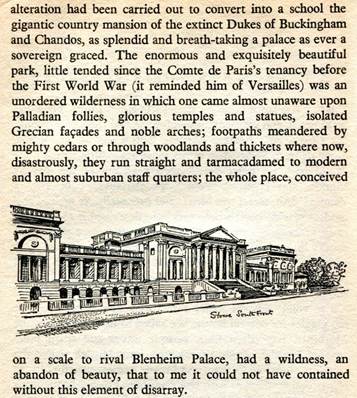 The House of Elrig, page 144, Penguin 1965 (illos by author)

Maxwell went through Britain's semi-notorious public school system. His mother was a Percy – the old Norman aristocracy, Dukes of Northumberland, descendents of Harry Hotspur, knight of Aquitaine. Being something of a rebel against her echelonic heritage, she deliberately put young Gavin through less stratospheric schooling than was the norm. He became listless and unhappy, largely owing to the ease his classmates found in contrasting his introspective manner with the exploits of his ancestors. This cartoon from Punch of two of his uncles he found particularly galling.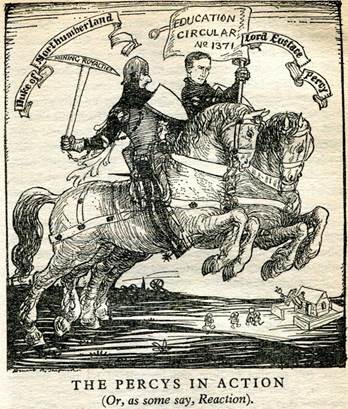 He survived and arrived at Stowe, which had only been established five years, and whose rules echoed the unruly expansiveness of the house itself. He makes the point that ancient public schools with ancient rituals become formalised and the ritual itself becomes the thing, rather than any social or behavioural meaning (Pictorial 7 Lindsay Anderson's If).

What struck me was that the unruly aspect of the estate even applied to his toiletries!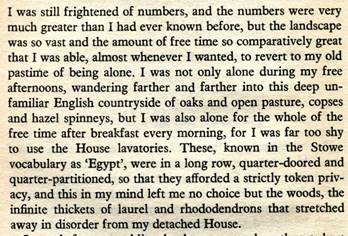 page 150

Where wilderness is tolerated, luscious undergrowth will cleanse pathogens with ease. This relates to the entire area of rituals of cleanliness (see Mosaic Law Tales of Faith 10) since the body is made dirty in places of power – meaning wilderness or rough terrain.

The idea of hygiene is exactly like the idea of order; they only exist in states of physical weakness, and therefore of psychic weakness (see Gates Hyborian Bridge 31, 36 Adastra in Africa Tales of Faith 2). Strength is always a question of contrasts – dirt/cleanliness – because the Earth turns and plant life is exposed to the fertility of the cosmos.

An Indian wigwam town, an Aztec city in the jungle, the city of Red Nails with its irrigation channels, Stowe.. all follow this cosmic rule. Rituals are only useful if they recognize the ancient strength that is the rotation of the Earth in its cosmic destiny.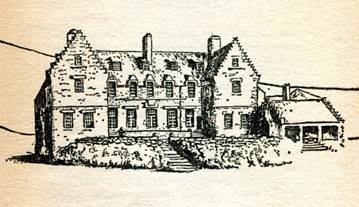 Elrig
← Hyborian Bridge 51 | Pictorial 41 | Pictorial 42 →
Home